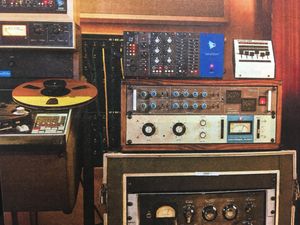 How I Started
Positive Beats
 So for the longest time I thought that money was what I was after in order to determine success. My music sells but it doesn't make my wallet tear open. If I had a bunch of money from music sales I would still be making music.  The amount of money doesn't really matter. I love making music. I got side tracked by trying to meet people that would help me rake in the big bucks with my music. The quality of my music became less due to aiming for the money and music scene of some kind. Over the years I found that most people can see when you are legit at something. I make music and have been for over 20 years. My focus was on selling my music. Sell sell sell, and I'm NOT a salesman! I have even spoken to other "successful" music artists to see how they do things. The results from most of them was a dead end. None of them seemed to care about helping another artist take away from the money they could be making. It was either that or my music was absolutely awful. The beats I make are different but far from awful. I've always imagined my music would eventually end up in TV commercials for cars or backgrounds to movie scenes or credits. Having tried multiple avenues to get my music heard by someone with the ability to put my music to work was only draining the money I made from working my job. After all the let downs and no call backs and good but not good enough chats I realized I was already successful. I have a ton of music, a ton of art, a ton of ideas, and a built up heart. I should be helping others who don't know what to do with their talent, or help people learn how to find a talent. Even help someone know what avenues not to take because it's most likely a rip off. My thoughts on some of these companies that take your money in exchange for you to have a chance at making it big with your music are clever. I could run a business that takes the hard earned money from the talented person (you) to fund my wallet. These businesses make money from skills that have no talent. Happens all day everyday to talented souls like myself. It's easier to make money by being the business that takes it from the artist trying to make money with talent. The companies that take a big percentage of your sales that you must go through in order to reach the vast majority of people to discover you is sickening. All I've been doing is making music, drawing my own cover art, and posting it to free social media outlets. It's such a slow way of growing a fan base, but maybe this will get people to act and see things different. I am writing this to reach out to others that have these same issues. Maybe you don't know what to do with your life, or don't know what to do with your talent. Should you try and find a job and give up on your talent?  Ask me some questions about whatever, I will give the best feedback I can. You will be surprised!  Stay positive
 I got started making music from being a part of Adlab Records as a technician in 2001. Adlab Records was located in Long Beach California where I lived at the time. After learning the musical equipment and discovering my talent for making music I chose to go solo in 2003. Since then I created my name by having once claimed to be a disc jockey but I never spun records….EVER! I went by the name Dj Suspense which didn't really fit me because I was a composer and didn't know it.  As time went on and having gone to school for music and electrical engineering I came up with Suspense Composer.
  The music style for most of  my music is along the lines of Trip-Hop, Dub Step, Hip-Hop Instrumentals, Classical Trip-Hop, and a touch of  Lo-Fi Study Hip-Hop. Some songs I have no clue how to classify, and yes sometimes this stems from having musicians writers block.
  I currently reside in Topeka Kansas. How did I get here? The real question is why did I come here? I love Kansas and have been here for over a decade. I will admit It lacks the musical exposure and scenes that I want but it has some. I came here to be closer to family, and just simply brought my music with me. So I went from CA where I learned my passion for music. Moved to CO where I had most of my beginning days as  Dj Suspense night club and house party scenes. From 2005 to 2007 made 5 albums that I did not have distributed or released in any fashion, just basically handouts to create fans. Left CO to move to Topeka KS. Since being here I have been able to expand my music even more. I have run into a few good artists and musicians out here, which led me to being inspired to do more with my music. So far up to date I have created 3 new albums and have had them distributed world wide. The new album "SLEEPLESS INDIE BATTLE" just came out In Oct 2021. Feel free to check out all of my previous Suspense Composer and Dj Suspense albums.
  I look forward to making music for the rest of my life while I can. Please enjoy following me through this adventure by subscribing to everything I have available. You can also help out by sharing my songs with friends and family, downloading , and reposting or saving songs to your playlists.